The Most Popular Theme of All Time
Fastest, Lightweight, and Highly Customizable WordPress Theme

1,653,898+

 Websites Trust Astra, and so Should You!
5 Stars Based on 5,678+ Real Users Reviews



Chris Lema
Astra cleanly beat the competition. It's why we recommend it to all our
 customers. At Liquid Web we tested over 50 themes for WooCommerce – looking at both performance and price. Astra cleanly beat the competition. It's why we recommend it to all our customers.
Reduce website design time by using pixel perfect ready to use website demos from our library of starter templates.
Change the design through a range of options in the WordPress Customizer. No coding knowledge necessary!
Astra gives you the ability to turn off the page title & sidebar. Create full-width pages with complete design freedom.
Astra is made for speed. It is the most lightweight theme available in the market and offers unmatched performance.
Customize Everything Easily
Not only will your website be fast, but you will be able to make it look exactly how you want with our visual theme customizer, fast & easy!
In this area, one can manage layout of the website container, header, blog, archives, single pages, posts, sidebar & footer.
Astra comes with several header layouts built-in. The Pro addon extends the possibilities and adds more features further.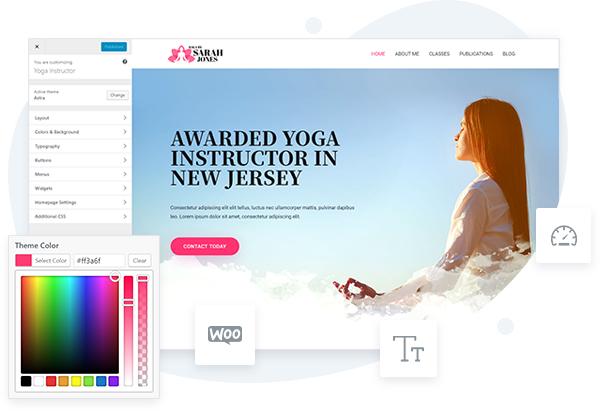 Set colors & fonts easily! We understand it's important to be able to set fonts & colors that integrate with your brand.
Control design of your blog posts & archive pages with neat options in the customizer. Manage width, content and even meta.
.
Full & Seamless Integration With Your Favorite Tools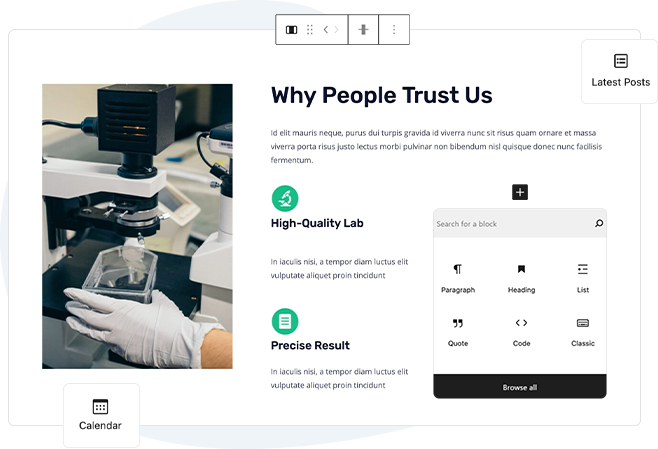 Gutenberg Blocks - Seamless Compatibility
Even before the official release of Gutenberg, Astra was among the first themes to become Gutenberg compatible. Over the years, this compatibility grew stronger. Today, Astra offers the most extensive library of free starter templates for Gutenberg, the ability to create custom layouts with the editor, and automatically manages Gutenberg blocks' styling and spacing.
Every single line of code in Astra is profiled for fast performing websites. We have numbers to prove that.
Many times, render blocking jQuery comes in the way of performance optimization. So Astra uses Vanilla JavaScript instead.
Astra is feather light. It needs less than 50 KB of resources whereas most of the other WordPress themes require at least 300 KBs. 
With default WordPress data, Astra loads in less than a half second. It is built for speed and fully optimized for performance.
Largest Library of Pre-Built Websites
Take a look at these gorgeous websites made with Astra and various Page Builders. These are available for import with Astra Sites plugin.

Join Over 1,653,898+ Astra Lovers!
From beginners to industry leaders, everyone loves Astra.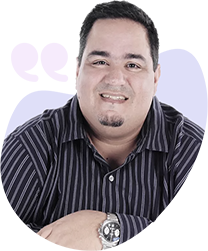 At liquid Web we tested over 50 themes for WooCommerce – looking at both performance and price. Astra and Astra Pro cleanly beat the competition. It is why we recommend it to all our WooCommerce customers.
Simply drag and drop elements and position them as required to design your website's header and footer.
You get what you see! Get a live preview of the header or footer while you build and design it as per your needs.
Customizing headers and footers haven't been this easy! You simply click on an element and play around with its style.

Seamless WooCommerce Integration
Are you looking for the perfect theme to build an online store? Astra is the fastest, flexible and free WordPress theme that is intuitive and offers deeper integration with WooCommerce. With unique features and countless customizations you can build a store that matches your brand.
Some More Reasons to Love Astra
Besides design, speed and endless customizability, there are many reasons to consider Astra. Let's take a look!
Astra is accessible and follows WCAG 2.0 standards. It meets the AA level which is essential for usability.
Developers will find Astra to be one of the best themes to work with for its clean and extendable code.
Astra's codebase architecture follows best SEO practices. It even comes with the necessary Schema.org markup you need.
You can translate Astra in your own language with .po & .mo files. You can even create multilingual websites.
Astra is 100% open source and developed transparently on GitHub. Anyone can join the development and contribute.
Astra is made to work with Page Builders like with Beaver Builder, Elementor, Site Origin, Visual Composer, Divi, etc.
A Brainstorm Force Project
You might know us already for our other products like Ultimate Addons for Elementor and Beaver Builder, ConvertPro, SchemaPro, etc. Besides these products, we contribute in many open source projects.

Astra is Free. Now & Forever.
We believe creating beautiful websites should not be expensive. That's why Astra is free for everyone. Get started for free and extend with affordable packages.
Spectra
Ultimate Addons for Beaver Builder
Ultimate Addons for Elementor
Convert Pro
WP Portfolio
What's New
Recommendations
Translation Project
Affiliate Program
FAQ
Brand Assets
Astra Pro
WooCommerce
LifterLMS Integration
LearnDash Integration
Theme For Elementor
Toolset Integration
Login
Downloads
Upgrade
Video Tutorials
Support
Astra Free Vs Pro
Plan Comparison
About
Blog
Support Policy
Privacy Policy
Disclosure
Terms and Conditions
Bug Bounty Program