The Most Popular Theme of All Time
Fastest, Lightweight, and Highly Customizable WordPress Theme


1,653,898+ Websites Trust Astra, and so Should You! 
5 Stars Based on 5,678+ Real Users Reviews At Liquid Web  we tested over 50 themes for WooCommerce – looking at both performance and price. Astra cleanly beat the competition. It's why we recommend it to all our customers.

Reduce website design time by using pixel perfect ready to use website demos from our library of starter templates.

Change the design through a range of options in the WordPress Customizer. No coding knowledge necessary!

Astra gives you the ability to turn off the page title & sidebar. Create full-width pages with complete design freedom.

Astra is made for speed. It is the most lightweight theme available in the market and offers unmatched performance
Customize Everything Easily
Not only will your website be fast, but you will be able to make it look exactly how you want with our visual theme customizer, fast & easy!
In this area, one can manage layout of the website container, header, blog, archives, single pages, posts, sidebar & footer.
Astra comes with several header layouts built-in. The Pro addon extends the possibilities and adds more features further.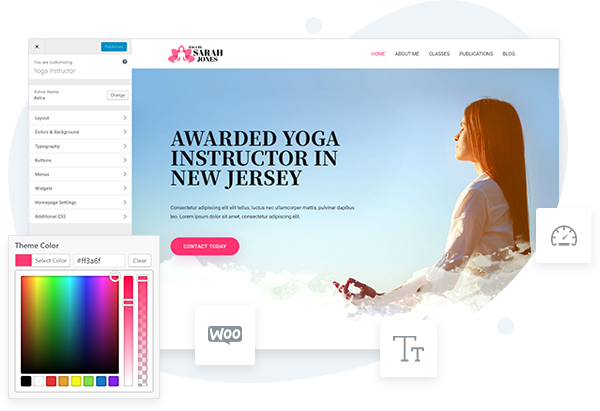 Set colors & fonts easily! We understand it's important to be able to set fonts & colors that integrate with your brand.
Control design of your blog posts & archive pages with neat options in the customizer. Manage width, content and even meta.
Full & Seamless Integration With Your Favorite Tools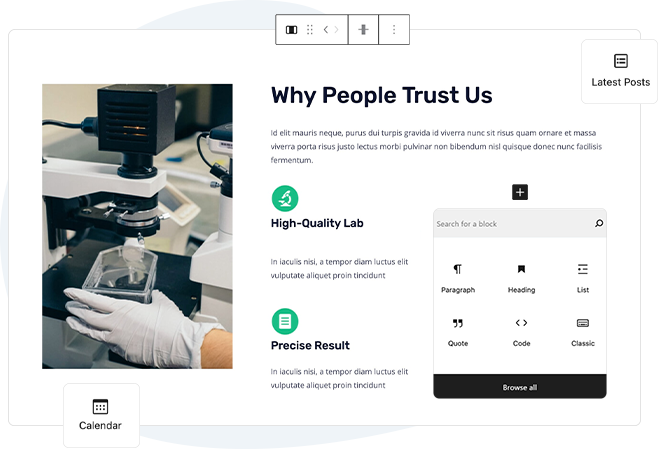 Gutenberg Blocks - Seamless Compatibility
Even before the official release of Gutenberg, Astra was among the first themes to become Gutenberg compatible. Over the years, this compatibility grew stronger. Today, Astra offers the most extensive library of free starter templates for Gutenberg, the ability to create custom layouts with the editor, and automatically manages Gutenberg blocks' styling and spacing..